2010
Ajit  Narayanan received the National Award for the Empowerment of people with disabilities from the President of India  (2010)
On December 3rd 2010 (International Day of People with Disabilities), Invention Labs was awarded India's most prestigious award for work in the disability sector - the National Award for Empowerment of People with Disabilities. The award ceremony was held in New Delhi by the Ministry of Social Justice and Empowerment, and Her Excellency, Pratibha Patil, the President of India, presented the Award to Invention Labs. Invention Labs and Avaz were nominated for the award by the State Government of Tamil Nadu, after they received positive recommendations about Avaz from some of our Chennai-based customers.
It was a singular honour for Invention Labs to receive this recognition, amongst such an august gathering. Also present during the presentation ceremony were Shri Mukul Wasnik, the Minister for Social Justice and Empowerment, and Mr D Napoleon, the Minister of State.
2011
TR35 – MIT Technology Review "Innovator of the Year"
Ajit Narayan was identified as Top 35 Under 35 Innovators for designing Avaz, a low-cost tablet based speech synthesizer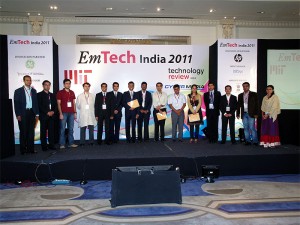 In March 2011, Avaz won another prestigious award, this time from our peer group of engineers, inventors and technologists. MIT Technology Review - the world's oldest technology magazine, brought out by the Massachusetts Institute of Technology (MIT) - featured us on their TR35 list. This is a list of innovators who are less than 35 years of age, recognized for technical innovation. Not only did Avaz make the list, but we topped it! We were named the "Innovator of the Year 2011" for India. A felicitation ceremony was held in March 2011 during the EmTech conference in Bangalore. We had an opportunity to make a short presentation about Avaz during that ceremony; you can see it here.
Winning the TR35 Award
2013
Avaz featured in a TED Talk by Ajit Narayan : A word game to communicate in any language (2013)


Ajit Narayanan - The Founder of Avaz receiving Amazing Indian Award from Times Now